Latin America's Electoral Agenda for 2020-2021
Elections in Latin America and the Caribbean face protracted polarization. Sars-cov-2 pandemic has caused an extension on alternative plans to fulfill the agenda which has been delayed in most cases. All these countries have prepared a busy electoral program for the end of 2020 and during 2021, with legislative and presidential elections that will define the next 5-6 years. What is the prospect?
According to the last trimester of 2020, the continent final score showed one of the biggest political and social crisis in 50 years. The new health and political normality coincides with the end of confinement, hopes of economic recovery, and new institutions that put the old leadership and democratic norms to the test.
Latin America, as the world's pandemic center, lacks consensus and only provides uncertainty about the future.
Electoral panorama in Latin America
In the first two thirds of 2020, Guyana, Dominican Republic and Bolivia, chose their heads of state, despite health adversities, on March 2, July 5, and October 10, respectively. What comes next on the electoral agenda?
Venezuela
In the middle of an economical and social crisis, the National Assembly of Venezuela has to renew their representatives in December 2020. Elections will be very unpredictable since one sector recognizes Luis Parra as their legislative president, while the other side consider that their leader is Juan Guaidó.
Many political scientists believe that the South American country is not in an ideal consensus to carry out a legislative election.  The Government wants legislative elections while the opposition wants presidential elections.
Ecuador
On February 7, 2021, Ecuador will decide wether the current president, Lenin Moreno, will continue his role, or a new face will be the country's president. Meanwhile, former president, Rafael Correa, announced his candidacy for the vice presidency, contesting power to Moreno; as long as he is not sentenced to 8 years for aggravated bribery, which was ratified in two judicial stays.
Mexico
On June 6, 2021, Mexico will be renewing its representatives and other positions across the 32 states. According to the National Electoral Institute, this electoral process will be the most complex and the biggest in Mexico's history, with 95 millions of voters (5 more millions than in 2018).
These elections may define the second part of the current president's career (Andrés Manuel López Obrador).
Argentina
The uncertainty about the economical issue caused by Covid-19, plus the political uncertainty that will last until the Argentines choose their president, grant a chance for Argentina to consolidate its leadership in the South of the continent. Countries are looking for allies to face the new upcoming world, and this is the right time; an example of this alliance is the union between Argentina and Mexico to try the new Oxford vaccine.
Meanwhile, this country is getting ready for the next legislative elections that will be held in 2021 from August 8 to October 24.
Honduras
Honduras will have elections on November 28, 2021. What Honduras really means with this election is not a new president only, but the return of democracy, the popular vote, and a legitimately elected government. Since 2009, Honduras has been invaded by the general rule of military coups, which helped the former president Manuel Zelaya being overthrown.
Current president, Juan Orlando Hernández, who was accused of fraud at the beginning of his term, states that his candidacy will not be in the electoral formula.
Nicaragua
Political controversy in Nicaragua extends to 2021, when the current president announced that the country will have elections on November 7. It looks like the opposition has achieved key consensus for a change. However, they must prove that they are able to keep unity, and have to make the Nicaraguan people need that change.
Peru
On November 8, 2020 Peruvian congress passed a vote of no confidence for president Martín Vizcarra, declaring him morally incapable. Consequently, the congress president Manuel Marino, assumed the interim presidency and called for elections immediately, even when they were planned for April 11, 2021.
Chile
Chilean elections will start with a fragmented political environment. Chile have to choose a new president on November 21, 2021.  This change will occur while the country is trying to abolish the 1980 constitution (Pinochet dictatorship); this constitution has been modified many times in the last years. Due to the riots that occurred during 2019, current president, Sebastián Piñera, opts for a constitutional change through a plebiscite, which people approved with 78% of votes.
The real challenge for politicians will be build intra and inter-party consensus  that respect all sensitivities, as well as impartial solutions that benefit civilians regardless of the ideological divergence of each party.
Update!
General elections in Chile are scheduled to be held on 21 November 2021, including presidential, parliamentary and regional elections.
Voters will head to the polls to elect: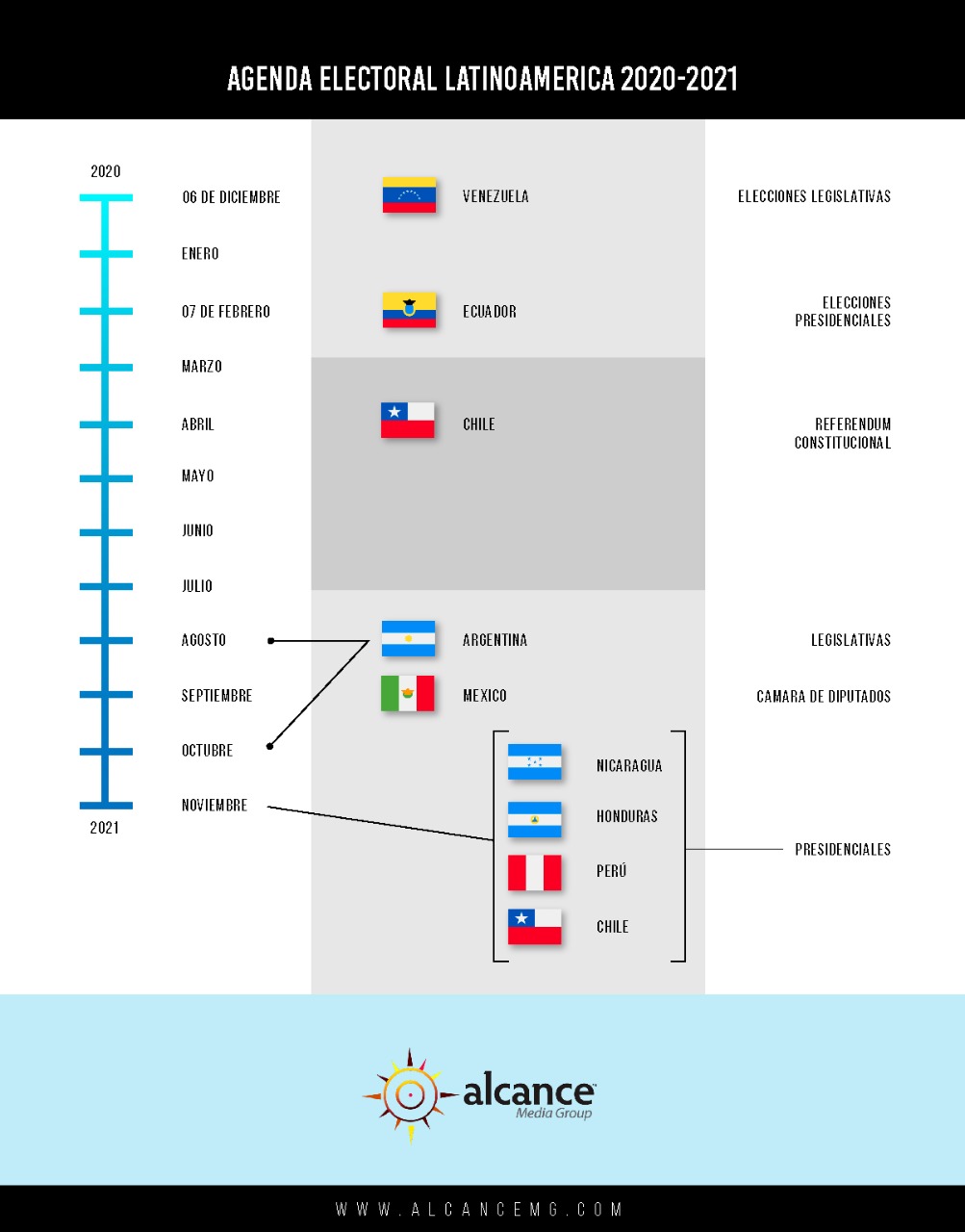 The end of 2020 and all of 2021 will be marked by a poorly reconciled political agenda, or directly incompatible between the right and left actors, leading Latin America on a path of economical and social uncertainty, in addition to the politics of each country.
While some countries look for alliances and reconciliations, some other act in an individualistic way and thinking about the well-being of their respective homeland.
You can find more related information on www.alcancerng.com
Recommended articles: